I've stayed at a few Peppers properties over the years and always enjoy my time with them, the accommodation is always stylish, practical and comfortable, the facilities are always well maintained and the staff have always treated me and the family well. Peppers usually do not have massive conference centres and heaps of meeting rooms, but the conferences I've attended at a Peppers property have always been memorable, there is a boutique atmosphere that makes you feel a bit special. However, one thing that I always love at Peppers is the food, I don't mind a good feed and Peppers has consistently satisfied me.
So I thought I'd share this with you. Peppers Hotels & Resorts hold a series of food and wine related events in destinations around the country. There is one coming up in the Southern Highlands of NSW on 17th and 18th August.
Peppers have 2 properties in the Southern Highlands of NSW; Peppers Craigieburn and Peppers Manor House. Just 90 minutes drive from Sydney and situated in some of the states most picturesque countryside these 2 boutique hotels offer a great week-end getaway, executive retreat or intimate conference venue. On the week-end of 17th and 18th August they are joining forces to host 'In Season at Peppers' a week-end of great food and wine. There are 3 events spread over the week-end
Peppers Craigieburn
Accommodation at Peppers Craigieburn
An Evening of In Season Grazing Delights with Peppers
7pm Friday 17 August at Peppers Craigieburn
$55 per person
Executive Chefs Warrick Brook of Peppers Craigieburn and Twan Wyers of Peppers Manor House, will showcase local produce at this exclusive market stall event with an emphasis on winter vegetables. Wander from stall to stall grazing on the gourmet delights of the Southern Highlands and getting to know our local producers, whilst sipping a selection of the regions world class cool climate wines.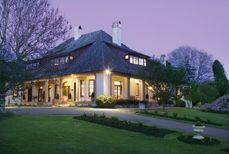 Peppers Manor House
Peppers Southern Highlands Hosted Food Trail
10am Saturday 18 August
$90 per person
Join us for a personally guided tour hosted by Peppers and FoodPath. Travel to the gorgeous Montrose Berry farm and enjoy a guided tasting of their products including jams, fruit pastes and berry vinegars. Visit Studio Restaurant at Exeter and savour a delicious two course lunch including a glass of wine. Explore Joadja Winery, while you enjoy a guided wine tasting then sample a variety of local cheeses.
'In Season at Peppers' Degustation Dinner
7pm Saturday 18 August at Peppers Manor House
$150 per person including wine
In association with Gourmet Traveller, hosted by Nick Stock from Gourmet Traveller WINE Peppers Manor House will present a five course degustation menu with an emphasis on winter vegetables, prepared by Executive Chefs, Twan Wyers of Peppers Manor House and Warrick Brook of Peppers Craigieburn. Cool-climate wines are matched to each dish by Nick Stock from Gourmet Traveller WINE, who will engage and entertain guests with his experience and expertise.
To Book call us at M-Power on 02 9318 2361 or email to info@m-power.net
.. RECIPE ..
..... not sure if they will cook this one in the Southern Highlands, but here is a recipe supplied by

Reuben Radonich, Executive Chef at Season restaurant, Peppers Salt Resort and Spa. We tried it at home and it was very tasty.
Butternut Pumpkin and Witches Chase Goats Cheese Tortellini, Burnt Sage Butter, Roasted Pine Nuts and Beetroot Chips.
.... authors note: If you dont have a pasta making machine, don't stress about rolling out your own tortellini, Wonton wrappers/skins from the local Asian grocer work just fine. Witches Chase Goats Cheese is apparently delicious, but any goats cheese will be OK.
Serves 6

Pumpkin filling (4 per serve)
750g butternut pumpkin, peeled and diced
Pinch of nutmeg and ground cinnamon
500g Witches Chase goat's cheese
Tortellini
Burnt sage butter and pine nuts
METHOD:
Pumpkin Filling
Roast pumpkin for 15-20 mins until just tender.
Sweat off onion and garlic.
Toss with pumpkin and spices.
Tortellini
Make a well in the flour.
Add eggs and olive oil and combine.
Kneed together to form a dough and rest for 30 minutes.
Roll thin sheets of pasta (No6) using pasta machine.
Cut with round cutter and place a tea spoon of pumpkin filling and a tea spoon of goat's cheese in the centre of the pasta disc.
Brush outer edge with egg wash and fold to now make half moon shape.
Press firmly to ensure edges are sealed tight.
Join the 2 tips of moon to make tortellini shape.
Place in simmering salted water for 6 minutes, strain, ready to serve.
Burnt Sage Butter and Pine Nuts
Add butter and pine nuts.
Add sage and toss with cooked tortellini.
Serve by garnishing with beetroot chips, shaved grano padano parmesan cheese and micro herbs.